It's official! Everyone is athletic but me! I am just not a runner...I've had people tell me that I can walk faster than I can run because when I run it's pretty much an up and down motion instead of forward - almost like when you run in place. But that's fine by me because I don't really enjoy running that much - I'd rather walk, or bike, or swim.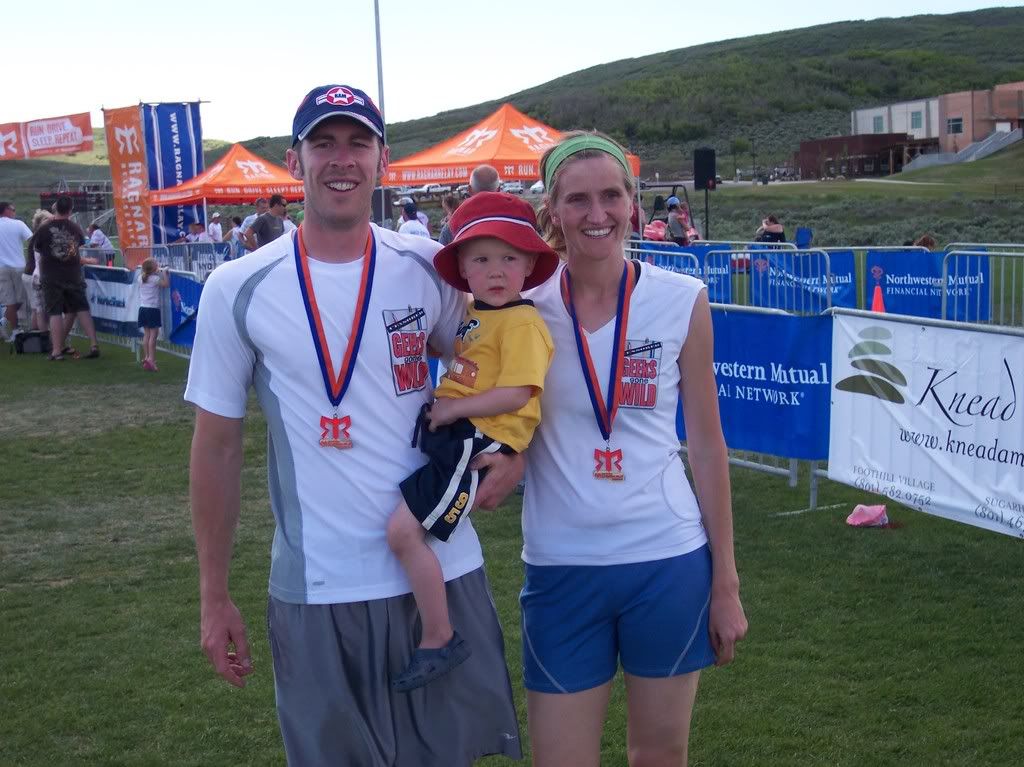 Last month on June 20th and 21st, my dad Gary, my brother Erik, and my sister-in-law Cheryl (Erik's wife) ran in the Ragnar Wasatch Back Relay, with 9 other people on their team. The relay consists of hundreds of teams of 12 who take turns completing legs of the relay. It starts in Logan, goes down to Midway, and doubles back to end in Park City, for a total of 180.5 miles. It really seems to be a fun event - people decorate their vans (you're allowed two support vehicles), wear funny costumes, and then they have a big party at the finish line.
Being there to watch everyone's great athletic feats really makes you want to do something like that - what a great personal accomplishment! This was the third year competing for both my brother and my dad. For some reason, I don't have a picture of all three of them together (that's my cute little nephew Logan with his parents, Erik and Cheryl, in this picture). Every time I attend an event like this it always makes me want to do something like that, but then I wake up the next day and convince myself I could never do it - I run in place, remember!
Also, Rick has been competing in the weekly mountain bike race series at Sundance and Soldier Hollow. They are held every Wednesday and usually alternate weeks between venues. In fact, he just competed again last night at Sundance. He is in the beginner category, since this is a fairly new hobby for him, but eventually he'll advance to Sport, then to Expert B, and finally to Expert A. Right now I think beginner is pretty good for him. He only had to do one lap last night (which took him about 50 minutes to complete), whereas the Expert A had to do 2.5 laps (takes considerably longer, but not much since they are better trained and have been doing it a LONG time). It's always funny though, because Rick will finish and say something like "That was the hardest route yet...I thought I was going to throw up! It was great!!! I love this sport!" Silly guy! I am grateful, thought, that he has found a hobby that he loves and contributes to a healthy lifestyle.
We joke that his main goal is to finish before the "8-year old", or that's what we call him. Im sure he's really not 8, but he can't be older than 12, and he beats Rick every race, but not by much. I don't think it'll be too much longer before Rick passes him by, though!
In these pictures, everyone is getting ready to start - they rac
e up a huge hill right off the bat and then have to race up the huge hill again in order to finish (after they go through the trail on the mountain, of course). Rick is near the back in the picture on the left, white shirt with blue sleeves, yellow highlight circle around his head (if you can even see it in the picture). The picture on the right is a close-up of him - look for the yellow arrow - that's Rick! The "8-year-old" is in the yellow jersey next to him.
Here's Rick just after he came off the mountain trail and is racing up to the finish line with another racer hot on his heels - go, Rick, go! In the picture on the right, Rick is coming back down after finishing...this is what relief looks like!